World Politics, History & Social Issues
Girl rising : One girl with courage is a revolution
Call Number: DVD 305.235 Girl
Publication Date: 2012
The movie tells the stories of nine girls from different parts of the world (Cambodia, Haiti, Nepal, Egypt, Ethiopia, India, Peru, Sierra Leone and Afghanistan) who face arranged marriages, child slavery, and other social injustices. Despite these obstacles, the brave girls offer hope and inspiration. By getting an education, they're able to break barriers and create change.
How We Got To Now : The History and Power of Great Ideas
Call Number: DVD 608 How
Publication Date: 2014
The history, people and innovators behind six ideas - clean, time, glass, light, cold, sound - and the impact that new ideas, technologies and innovations had on society
Humanity from space
Call Number: DVD 608 Humanity
Publication Date: 2015
Trace humankind's long journey from hunter-gatherer to dominant global species. From the perspective of space, this documentary uses data and computer generated imagery to disclose the extent of humanity's influence, revealing how we've transformed our planet and produced an interconnected world of extraordinary complexity. A trip through 12,000 years of development, the documentary shows how seemingly small flashes of innovation have changed the course of civilization. As our global population soars, the program considers the challenges humanity will face in order to survive. Topics include the development of urban areas and cities, population growth, the development of innovative engineering, machinery and manufacturing, renewable energy and fossil fuels and sustainability.
Putin's way
Call Number: DVD 947.086 Putin's
Publication Date: 2015
behind the scenes investigation of Vladimir Putin and his "...ascent from unemployed spy to modern-day czar, and the persistent accusations of criminality and corruption that have accompanied that rise. Trace Putin's career back two decades to his political start in St. Petersburg, where allegations of corruption began almost immediately. The film chronicles Putin's ascent as Boris Yeltsin's chosen successor, examines his controversial ties to former German Chancellor Gerhardt Schroeder, and revisits the horrific 1999 Moscow apartment bombings." [From back cover]
Escaping Isis : Gripping, firsthand stories of survival from women who were held captive
Call Number: DVD 956.04 Escaping
Publication Date: 2015
Using undercover footage, FRONTLINE presents the first-hand accounts of women who escaped the brutal reign of ISIS and follows an underground network that's helping them escape." (From cover)
The Rise of Isis
Call Number: DVD 956.04 Rise
Publication Date: 2014
How did Isis (Islamic State of Iraq and Syria) grow out of the remains of Al Qaeda? How are they funded? How do they operate?
Children of Syria
Call Number: DVD 956.91 Children
Publication Date: 2016
The story of four children surviving in war-torn Aleppo, and their escape to a new life in Germany.
Inside Assad's Syria
Call Number: DVD 956.91 Inside
Publication Date: 2016
In late 2015, all eyes are on Syria as the U.S. mulls next steps, Russia's involvement intensifies and tens of thousands of refugees continue to flee the war-torn country for Europe. Martin Smith makes a journey into government-controlled areas of Syria as the war escalates revealing what life is like for those who are left behind.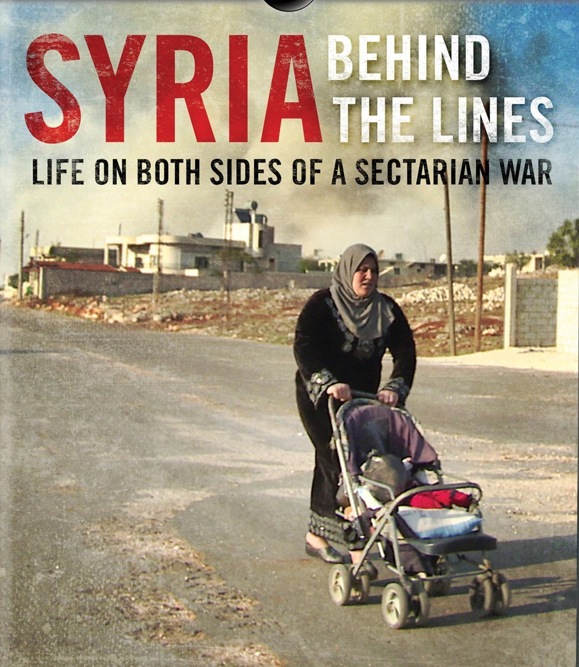 Syria behind the lines : Life on both sides of a sectarian war
Call Number: DVD 956.91 Syria
Publication Date: 2013
Witness both sides of Syria's sectarian frontline. For generations, the many religions that live in Syria's Orontes River Valley have lived together peacefully. As the conflict spirals into a sectarian religious feud, friends and neighbors of different faiths are taking up arms against each other as Syrian society begins to collapse. Shells, mortars and air attacks only escalate the hatred and violence on both sides. Topics covered include President Bashar Al Assad, martyrs, regimes, militias, terrorists, extremism, Free Syrian Army, Muslim Sunni and Muslim Shiites.
Netanyahu at War
Call Number: DVD 956.94 Netanyahu
Publication Date: 2016
Israeli Prime Minister Benjamin Netanyahu is one of the most polarizing political leaders on the world stage. The documentary traces Netanyahu's path to power, his combative relationships with multiple U.S. presidents and the implications in America and the Middle East.
Isis in Afghanistan : Taliban Hunters
Call Number: DVD 958.1 Isis
Publication Date: 2015
Isis in Afghanistan: Reporter Najibullah Quraishi reveals the degree to which Isis is gaining a foothold in Afghanistan and how they're focusing their efforts on training children jihadists. Taliban Hunters: Reporter Mobeen Azhar rides along with a police counter-terrorism unit in Karachi, Pakistan, that's dedicated to tracking down Taliban suspects.